About AASCU
AASCU the American Association of State Colleges and Universities, is here to serve you.
AASCU is the collective voice of nearly 400 public colleges, universities, and systems that hold students and community at the heart of their mission. The association works to expand student access, success and opportunity, promote world-class teaching and experiential learning tied to career advancement, and support applied research and service that advances economic development and quality of life in communities across the country.
We provide structured, customized, and organization-wide support and guidance to accelerate and sustain transformation at member regional comprehensive institutions. We better enable you to improve educational and career outcomes, close equity gaps, and advance social and economic mobility for each and every student, including their families. We work to help you support all students — especially first-generation students, low-income students, and students of color.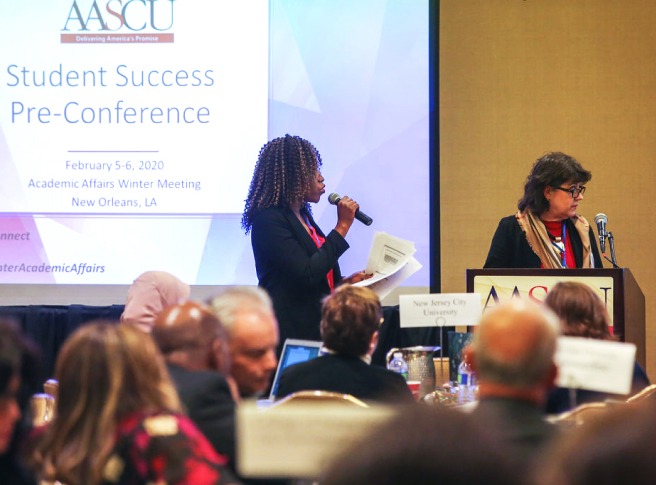 Your Student Success Team
Jacquelyn R. Jones, Ph.D.

Assistant Vice President of Student Success

Prateek Basavaraj, Ph.D.

Senior Research Analyst

Lynn Brabender

Director of Student Success and Service Provision

Randy Bumpers II

Assistant Director of Student Success and Learning Experience Design

Melissa Rivas

Director of Student Success and Coaching

Nyala Watkins

Program Manager, Student Success

Andrés Quintanilla

Director of Student Success and Institutional Transformation
Our Partners In This Experience
AASCU is connected to a network of content and subject matter experts,
from advising to strategic finance. Here are some of the partners that
participating institutions would have access to as part of the experience.